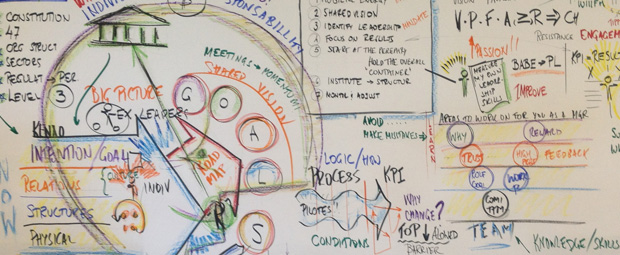 The Swedish National Audit Office
The Swedish National Audit Office carries out development cooperation with its Kenyan counterpart, the Kenya National Audit Office (KENAO). Supporting KENAO in the ongoing work to apply Kenya?s new constitution is a central aspect of this cooperation.
Goal:

The process of restructuring Kenya?s public administration to create 47 counties has placed high demands on KENAO?s organisation and operations. New local offices have opened in each county, and hundreds of new employees are joining the organisation.
Assignment:
In September 2013, Ulric travelled to Nairobi with Ingela Ekblom from the Swedish National Audit Office. The aim of the trip was to work with KENAO?s senior management and to develop management?s ability to act within the change situation in which the organisation finds itself.
The development group included 35 managers from senior management level to senior executives. By working together to create a vision, move the management focus from the details to the bigger picture, create a common picture of the role of management and clarify roles and mandates, the initial foundations were laid for effective management work.
Effect:

Ingela works as a professional coordinator within leadership, communication and HR at the Swedish National Audit Office?s international department. She ensures expertise and quality within these fields in the authority?s development assistance projects in Africa, Eastern Europe and Asia.
She talks about working with Ulric:
?When working in an international arena, different languages and cultures can present obstacles to communication. At the Swedish National Audit Office, we therefore work with as many different teaching styles as possible. Ulric is one of few management consultants who works with graphic visualisation in his role as a consultant. This has proven to be highly significant for good learning, helping us to carry out qualitative projects. Ulric also has a great deal of energy, enthusiasm, experience and knowledge. My experience of devising and carrying out development projects together with Ulric is that the visual images add another dimension that is important in terms of participants? ability to assimilate information and knowledge.?
A focus on leadership in developing countries
In addition to their involvement in the Swedish National Audit Office?s comprehensive audit development project in Kenya, Ulric and Ingela are also creating a management programme for senior managers within audit authorities in developing countries. This is being carried out in partnership with the African Organisation of English-speaking Supreme Audit Institutions (AFROSAI-E).