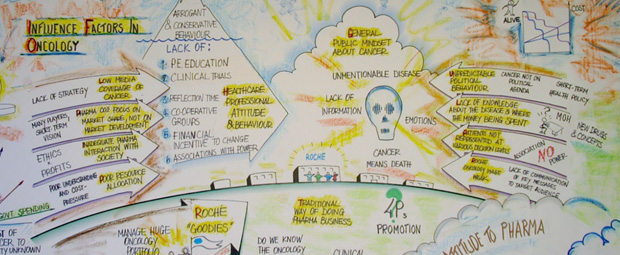 ROCHE pharmaceutical
Unit:
The head office with projects for supply chains for all international provision, and the managements of the Subsidiary Companies in Portugal, Italy and Brazil
Goal:
Analyse the problem of the provision chains for international production and distribution. Formulate visions for each respective subsidiary company to make control more efficient, and improve profitability.
Assignments:
5 separate assignments over a 10-year period. Methodologically design process for analysis of problems, and proposals for measures in an international team. As graphic facilitator to manage the strategic vision?s parts of the project. Strategic visioning with subsidiary companies. Formulating processes for, and managing, strategic vision work in the managements of subsidiary companies to achieve clear goals and management consensus. Contribute to formulation, and in certain cases, lead parts of the establishment process to synchronise work in each respective subsidiary company.
Effective consultancy investment:
Provision chain 25 days. Portugal 15 days over 4 years, Italy 15 days over 2 years, Brazil 5 days and Turkey 4 days.
Time spent per organisation:
No particular time in excess of presence with consultant, included in normal line work.
Results:
Proposals for the provision chain were implemented. After 2 years the problems had been resolved. Portugal changed its working methods, improved its management group and various managerial levels, and subsequently achieved the vision with considerably improved profitability. Italy changed its method of working, improved its organisation. Profitability can be determined during the coming budget year as the measures have not yet worked their way through fully. Brazil has a clearer goal picture. The long-term effects are not yet evident as the vision work was implemented only 1 year ago.